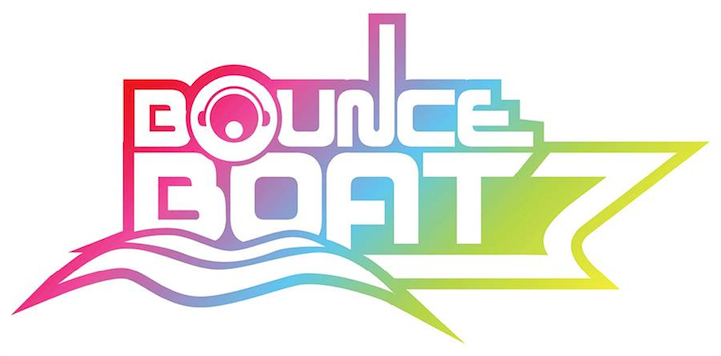 If you are anywhere near New York City in the next three weeks we suggest not missing the perfect chance to escape your routine nightlife scene by attending one of the Bounce Boat series events!
Kicking off this Friday July 11th, Bounce Boat, The World's Premiere Dance Cruise, will offer dance music aficionados the chance to party on a 210-foot long yacht for a full 6 hours along the Hudson River. Equipped with a state-of-the-art sound system and a fully sound-integrated LED light system, the spacious facilities on all three floors and the Skydeck will offer the 1,200 party-goers the opportunity to groove and stomp to the diverse line-ups each night has to offer.
We will be present on board, giving out samples of DownBeats for you to enjoy your night in style while still keeping your ears safe from possible over-exposure to Bounce Boat's top-notch sound system. DownBeats filter sound, by reducing it an overall 18 decibels, ensuring that the highest quality sounds are reaching your ears while the harsh noises and feedback are left out with the crowd.
WATCH BOUNCE BOAT'S 2014 SUMMER TOUR VIDEO HERE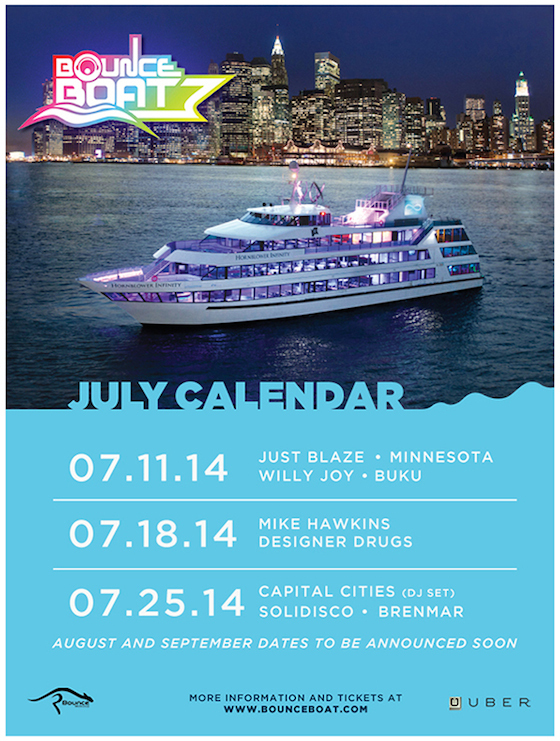 Beginning this week with hip-hop mastermind Just Blaze headlining the Main Stage along with Chicago's very own Willy Joy, dropping his flavor of bass music peppered with house and juke, Bounce Boat also boasts Minnesota and his trademark melodic dubstep and Buku's signature booty-popping bump 'n' grind tunes on the SkyDeck. Listen to his latest single "Cake Dough Cheddar"which just dropped on the Never Say Die Volume 3 compilation HERE.
Next week, Friday July 19th, Bounce Boat will be leaving the docks of Pier 40 with two huge EDM acts set to deliver the soundtrack for your night. Headlining the Main Stage is Danish producer DJ Mike Hawkins who makes a stop on his own North American REVOLT tour while the SkyDeck will host electro-punk DJ/production duo Designer Drugs as they continue making a name for themselves following the relase of their sophomore full-lenght LP, The Drugs Are In Control.
Closing out the month on July 25th, attendees' ears will be able to feast on the sounds of platinum recording indie-pop duo Capital Cities, who will be making their New York debut in the form of a DJ set by Seby Simonian. Disco house producer Solidisco and the extravagant genre-defying medleys of Brenmar are also set to play Bounce Boat's Main Stage, while artists for the remaining two stages will be announced soon
As summer continues, Bounce Boat will keep announcing their eclectic line-ups for the upcoming months of August and September, featuring top class DJs and a wide array of dance music genres.
Click HERE to Get Tickets For Bounce Boat's Summer Tour
For The Latest Announcements and Updates, Follow Bounce Boat on Facebook + Twitter.